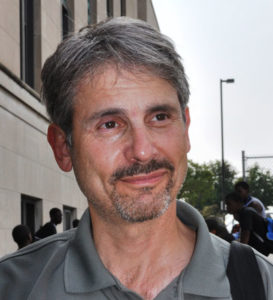 Steve Marantz is an author/journalist/podcaster with experience in television and print media.
Read his March 2020 article on Parkinson's Boxing for the Boston Globe.
He is creator and producer of "Championship Stories" podcast.  He worked as a  researcher/producer for the ESPN E:60 show, wrote for ESPN.com, and is a former staff reporter in government, politics and sports for the Boston Globe and Boston Herald.   He began his career at the Kansas City Star.
He contributed to the award-winning news magazine show E:60 from its inception in 2007 through the fall season 2015.
His research and reportage — interviews, criminal records, real estate records, bankruptcies, civil lawsuits, police logs, corporation filings, non-profit filings, government archives, and academic reports — formed the basis of more than 100 stories.
Marantz was part of investigations  that exposed health risks of synthetic turf/crumb rubber; sex abuse at the military academies; exploitation of child boxers in Thailand; abuse of immigrant labor in Qatar; air pollution in hockey arenas; sex abuse by amateur youth coaches; concussions and brain damage in football; and inadequate catastrophic health insurance for high school athletes.
He explored and illuminated personalities of star athletes, including JJ Watt, Ndamukong Suh, Calvin Johnson, A.J. Green, Clayton Kershaw, and Marshawn Lynch.  He wrote print stories for espn.com and a blog called 'Production Notes' that detailed the creative and technical aspects of story production.  His research supported several documentaries for the award-winning 30 for 30 series, and feature films produced by ESPN Original Entertainment.  Marantz won a Sports Emmy for an investigation into catastrophic health insurance for high school athletes in 2012.
His fourth book, "Citizen Akoy: Basketball and the Making of a South Sudanese American", about the refugee journey of Akoy Agau, was published by University of Nebraska Press in February 2019.
His third book, "Next Up at Fenway: A Story of High School, Hope and Lindos Suenos", was about an innovative public school that succeeds where traditional schools fail.  His second book, The Rhythm Boys of Omaha Central: High School Basketball at the '68 Racial Divide, won the ForeWord Reviews gold medal for non-fiction sports, and the Nebraska Center for the Book award for non-fiction history. He authored Sorcery at Caesars: Sugar Ray's Marvelous Fight, about the 1980s-era rivalry between two legendary boxers: Sugar Ray Leonard and Marvelous Marvin Hagler. 
Marantz lives in Swampscott, Mass., with his wife, Alison Arnett, and their dog, Arthur.
You can contact him at info@stevemarantz.com