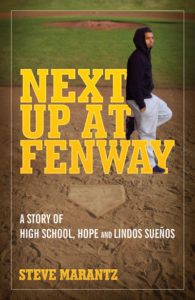 Next Up at Fenway: A Story of High School, Hope and Lindos Sueños
ISBN-13: 978-1-59299-913-2
Marcos Baez had many loves. First was his mother. Next came baseball. Reggaeton and bachata. A girl stole his heart. Then he realized a love greater still. Learning.
Next Up at Fenway: A Story of High School, Hope and Lindos Sueños tells the true story of Marcos Baez, whose public high school next to Fenway Park was his best hope for a college education and a better life. Baez, the son of a single mother of Puerto Rican descent, personifies the struggle and determination of America's fastest-growing demographic.
Recognized as one of two Boston high schools "where Latinos succeed" by the Mauricio Gaston Institute of the University of Massachusetts-Boston, Fenway High teaches critical thinking and community involvement in a familial environment. Through its innovative curriculum and Latino-sensitive culture, the school helps Latino students succeed academically and in personal development.
Author and journalist Steve Marantz spent two years in the  classrooms and hallways of Fenway High, alongside Baez, his classmates, and teachers. With unlimited access, Marantz has chronicled the Latino soul of one of America's most amazing and unusual schools.  On the shelf at Porter Square Books, Cambridge, Ma.
—-
"Through the story of Marcos Baez and Fenway High, Steve Marantz shows the humanity and prospects of Latino students in our nation's public schools. Next Up at Fenway gives us a window into how social forces and education policy decisions are playing out in real people's lives – for better and worse – within America's fastest growing demographic. This book is both Americana and a reality check for the 21st century." – Sonia Chang-Diaz, Massachusetts state senator and former teacher
Available at: Amazon.com, BN.com, InkwaterBooks.com
On the shelf at Porter Square Books, 25 White Street, Cambridge, Ma. 02140